Fletcher is a passionate, visual artist, astrologer and author.

"Learning these subjects has have been my consuming passion for the past 30 years. I was born 1953 in Sydney, Australia, moving to North Queeensland in 1980 to a cosmopolitian culture where my world expanded in all ways.

Whether it's painting, writing, astrology, gardening, or my latest venture, digital art, when I get inspired, it becomes an obsession. A friend once told me that anything that I find worthwhile, I tend to do it to the extreme. Observant I say!

I had no idea I could paint until I was 30, after my Saturn Return. My first painting was done to fill a hole on my wall and sold the first week. I joined a class soon after, first learning how to stretch a canvas, then the teacher invited us to come back the next week with a subject, any subject, to paint on this huge 1.4 x 760 canvas I had just made.

I came with "The Lolly Shop" in my head and so within two months of picking up a paint brush I began to think I could paint anything. I dropped the class, but not the brush................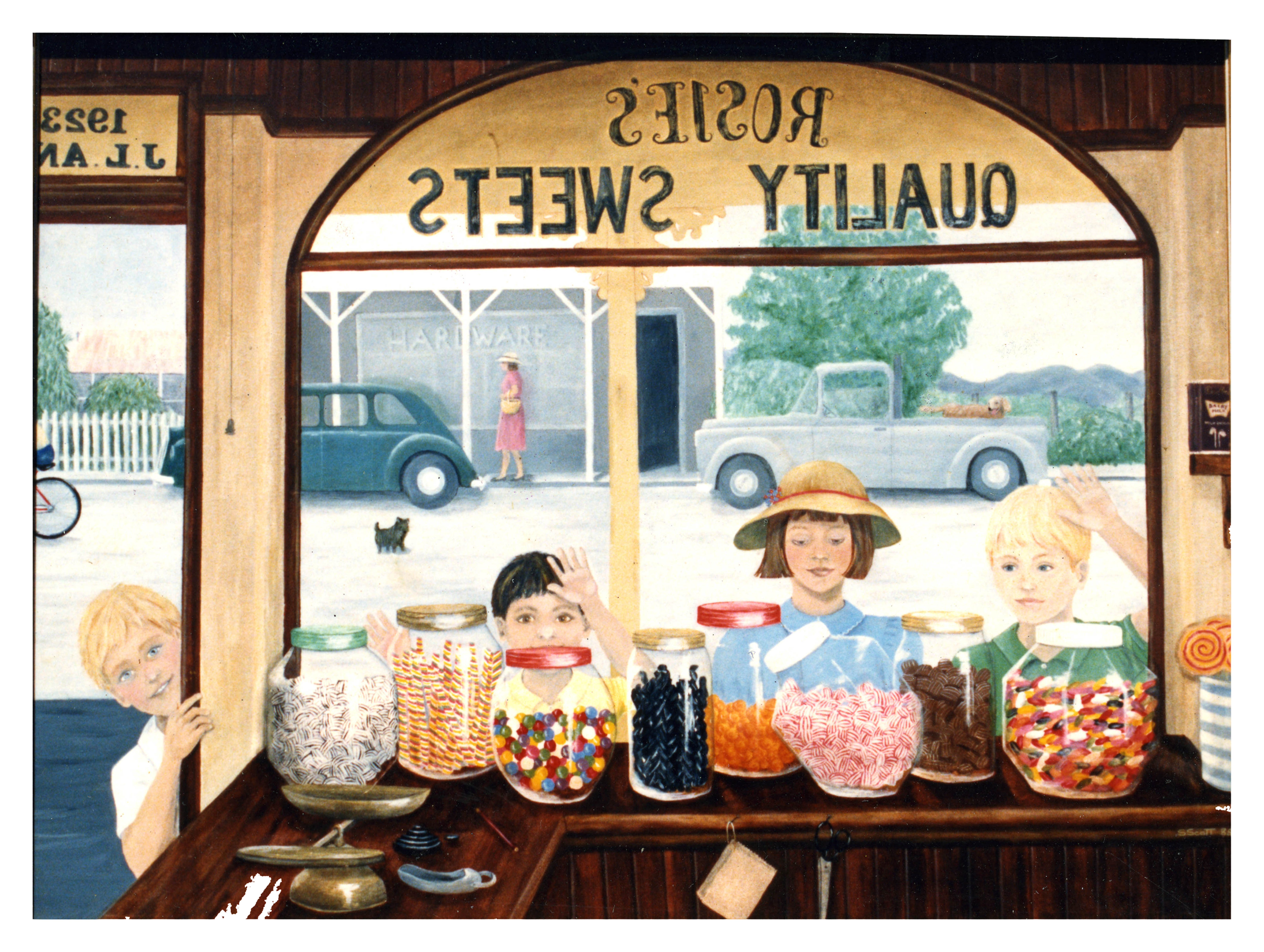 Rosie's Quality Sweets 1985

A very psychic man once told me I was the son of a prominent English politician in another life. Extremely privileged I became a patron of many artists, so this lifetime I came in with all the gifts of those artists I had supported then.

I figured this idea was as good as anything to say where my talent came from as I seemed to have an abundance. I have had to concede after my grandson came out to visit, as he helped me build the latest bottled wall in the garden. "Most grandmothers can't do much of anything but you do heaps and heap of everything." Reminds me that we should let the children be our teachers...............
I had no choice, I was born a non conformist, I didn't have to try. I was surprised to find that even in the art world there was an expectation of conformity which I could not fulfil, hence to be an artist I had to find my own way.

I opened my own gallery in Palmcove, Cairns in 1990- 93 and another on Tanahwa Tourist Drive on the Sunshine Coast 2000-04. I am most happy to say people loved the pictures I loved to create, Fletcher Dale art is now in collections throughout the world.
My Murals are scattered over the east coast of Australia, after I found BIG was easier for me than small. I'm a Leo after all.

In between painting I wrote. My first child's book came out in 1993, eventually illustrating and publishing five more in the Hydro Flux series. The poetry was done over a twenty year period.

Mother Fire Acrylic on Canvas 600x400 $800